Tegnspråk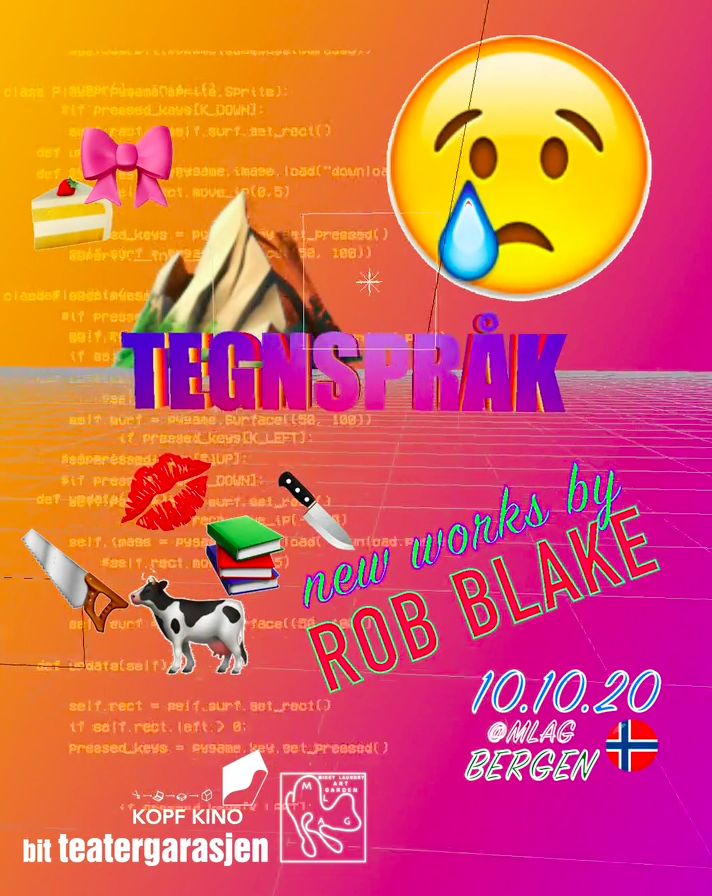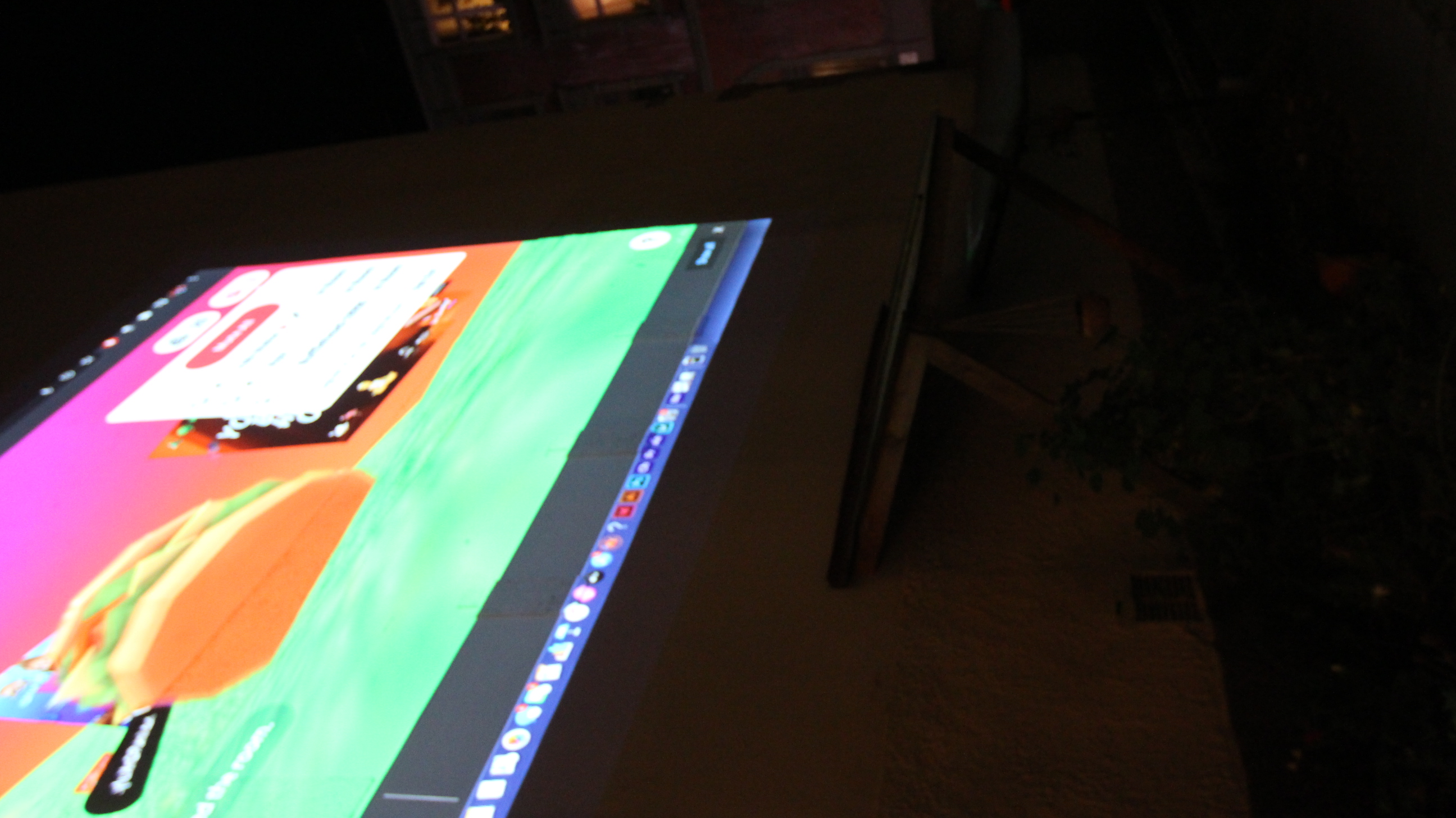 Rob Blake. Tegnspråk 10. oktober 2020 Kl. 21:00
10. oktober presenterer MLAG og BIT Teatergarasjen Rob Blakes verk «Tegnspråk». Ved hjelp av installasjonen Kopf Kino, VR-plattformer og flere projektorer blir publikum invitert til en stedsspesifikk og interaktiv utstilling i MLAGs gallerilokaler og gårdsplass i Korskirkeallmenningen.Utstillingen presenterer nye digitale arbeider som utforsker vårt forhold til sosiale medier. Ofte er meldingene vi leser og deler ikke tydelig knyttet til våre egentlige intensjoner. Retoriske aspekter ved nyhetsstrømmer, likes og emojis er ikke fastlagt i Blakes presentasjon av vårt komplekse samspill med disse plattformene. Våre subjektiviteter blir lokket fram etter hvert som det suggestive og mis-ledende i disse formatene blir spilt med. Blakes «Tegnspråk» er et kritisk avhør av motivene bak den allestedsnærværende estetikken til sosiale medier. Å undergrave kjente formater skaper offentlige spekulasjoner om utnyttelse av våre «ekte» følelser og samspillet mellom overfladiske glede tatt i bruk av teknologiens kommersielle interesser.Vi ønsker hjertelig velkommen til et arrangement som på mange måter åpner for diskusjon av tematikk vi vil ta for oss under Oktoberdans 2020's diskursprogram FUTUREBODIES.Utstillingen er kuratert av Michael Laundry.
Se Facebook-event her: https://fb.me/e/1w02YcLi1
On October 10th, MLAG and BIT Teatergarasjen present Rob Blake's Tegnspråk in the courtyard garden and open-air gallery space at MLAG.
Using the Kopf Kino, VR platforms and multiple projectors the viewing public is invited into a site-specific participatory exhibition in the centre of Bergen in Korskirkeallmenningen.
The exhibition presents new digital works exploring our relationship to social media. Often the stated messages we are reading and sharing do not clearly relate to hidden objectives. Rhetorical aspects of feeds, likes, emojis are not fixed in Blake's presentation of our complex interaction with these platforms. Our subjectivities are teased out as the suggestibility and misdirection inherent in these formats is played with. Blake's Tegnespråk is a critical interrogation of the motives behind the ubiquity of social media aesthetics. Subverting well-known forms engages public speculation on the exploitation of genuine feelings and the interplay of the surface joy employed by tech's
commercial interests.
The ubiquity of social media as tools for market-driven purposes is reimagined in Blake's work. Tegnespråk is a work developed in collaboration with Mikey Laundry Art Garden (MLAG) and BIT Teatergarasjen. Using motion graphics inside free VR platforms, the exhibition explores how a diverse range of voices can be seen and heard within public space both real and virtual. Using the language and layout of instagram and other social media, Blake uses satire for contemplation on building sensitivity to oblique agendas that reward commercial interests. What's more, Tegnspråk investigates how VR technology can tell us something about the way we participate as individuals in a society often separating digital/virtual spaces from the physical forms of our daily lives.
Critical questions and themes concerning physical and virtual participation in society are interrogated against the backdrop of the COVID 19 Pandemic. The exhibition takes aim at the relationships between digital signage and how these can facilitate engagement. Work that explores digital solutions for mediation is especially important as physical distancing is demanded to overcome the risks posed by COVID 19. With the proliferation of virtual tools to communicate and physical precautions asked of us, how might contemporary art use technology and physical space as tools for engagement?
Rob Blake is an artist very well suited for such important questioning. His work in Berlin is known for its social engagement. Blake is a master of using technology in creative ways to invite public speculation about its role in societal transformation. With a dose of humour and light nudging, Blake's critical positions on public participation allow the audience to feel that they are heard and part of making something different. Blake's work can come in the form of sculptural responses to the corruption of free speech. In a comment on his 2017 exhibition Against People Against People, Afterview magazine described his practice as, possessing, "a playfulness that belies the deep hatred fueling the ideologies which the work opposes but it is this playfulness which is so subversive. The works were also intended for actual use, visitors were encouraged to take to the streets, yielding the art' 'and put them to use in combating the AfD's messages. At a time of such political unease 'Against People Against People' feels like a welcomed intervention in the flow of social development. In this instance, Blake's work fuses the sensibilities of Dadaism, Situationism, Punk and political activism' (Afterview.net). With the audience's participation via open-access software, Tegnespråk addresses humanist topics of collaboration and shared knowledge which is in-line with the core values of BIT Teatergarasjen and MLAG.
These questions are pressing in the midst of a global pandemic. Questions of how we imagine who we are and how we communicate with each other in public space are given additional relevance as Bergen Kommune marks its 950th year.
Over and over again, we see how public space is relevant to democratic societal transformations. When we identify with public spaces, with all the collective historical memory assigned to them, what societal transformations seem relevant? Using the Kopf Kino Bergen's public space outside the gallery at MLAG will become a canvas to explore how the meaning of signs might take on new relevance as they move between virtual spaces to the physical landscape.
Rob Blake: Tegnspråk 10. oktober 2020 Kl. 21:00Sted: Mikey Laundry Art Garden (MLAG)Språk: VRKategori: UtstillingVarighet: 21:00-22:30 (dørene åpner 20:00)